My last post was about my mini L.A. Colors haul. Finally I have a chance to do swatches for them. Here are the results:

L.A. Colors – Force (Color Craze NP 410)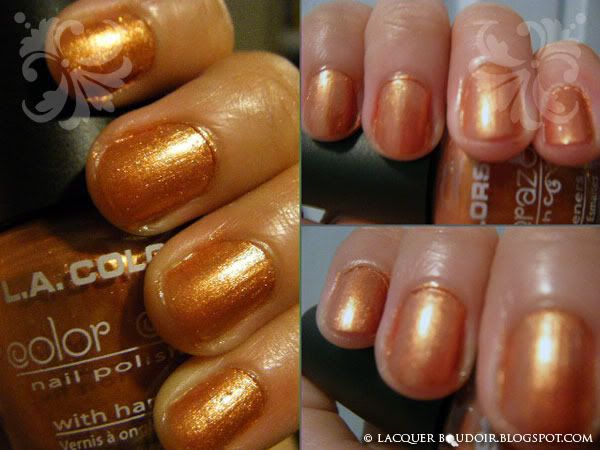 (L.A. Colors: Force – Color Craze NP 410. 2 Coats. No Topcoat.)
I'm surprised by its smooth and even application. Two coats did the job, it actually looks slightly more iridescent in person. The micro-fine glitter is actually multicoloured.
L.A. Colors – China Gold (NP 105)
Again, application is very even and smooth. Seems a bit more sheer than
Force
but 2 coats was enough to give an opaque look.
L.A. Colors – Live (Craze Colors NP 409)
Although its pigmented micro-glitter gives the most metallic look of them all, but I must say, the application of
Live
isn't as smooth and even as
Force
and
China Gold
. It physically feels smooth but looks a less refined and more coarse than the other two. Like I said, on my last post, it's a duplicate of
Orly Shine
according to
You've Got Nail
swatch comparison. I did a quick test on clear plastic, it's definitely Konadable.
Final Thoughts
I'm surprised the quality of the varnishes, it's right up there with other well known brands. At 99p each, it's a total steal! I definitely will be hoarding more varnishes from this brand!
Have you any L.A. Colors? What do you think of them?
---