After reading many reviews about Misa varnishes, turns out my local nails supply store sells Misa! So I bought 3 varnishes, thought to try them out first. The store is just down the road from me, could always get more later. ;)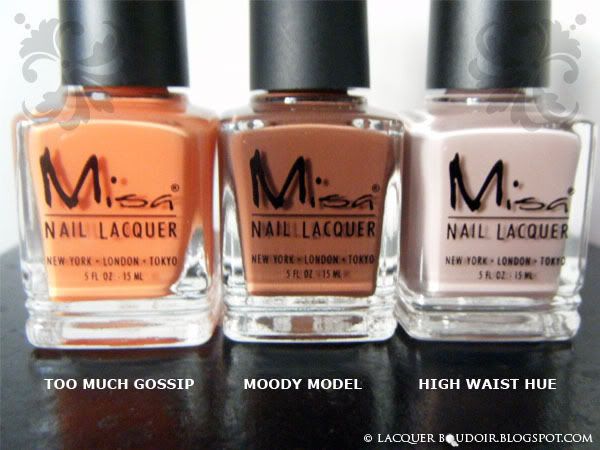 Too Much Gossip

(Girlfriends Collection 136

)


It's a lovely pastel orangey-coral colour but not as pink as most coral. Very Summer.
Moody Model

(Runway Collection 158)
I think the bottle has the wrong sticker label, it reads "155 Be My Lover". So I went to look it up on Misa's website, it turns out that Be My Lover is lilac! So I can only conclude that this is Moody Model. It looks like melted milk chocolate! Can't wait to swatch this one.

High Waist Hue

(Runway Collection 157)
The photo seems a bit lighter than it should, the colours from the first photo are more accurate. It's more grey in person. It's a muted greige-pink mannequin colour. Very close to OPI Tickle My Francey (one of my favourite OPIs) but slightly more pink. Can't wait to try this one too!
Do you own any Misa? What do you think of them? What's your favourite Misa colours?
---