Another Chanel symbol is the camélia – also the first flower given to Coco Chanel by her English lover Arthur 'Boy' Capel, who inspired her creations significantly and financed her first boutique in Paris. Since the launch of Chanel jewellery line in 1930s, the camellia became a stable appearance in her jewellery and accessories from sapphire necklaces, earrings to sunglasses and hair accessories.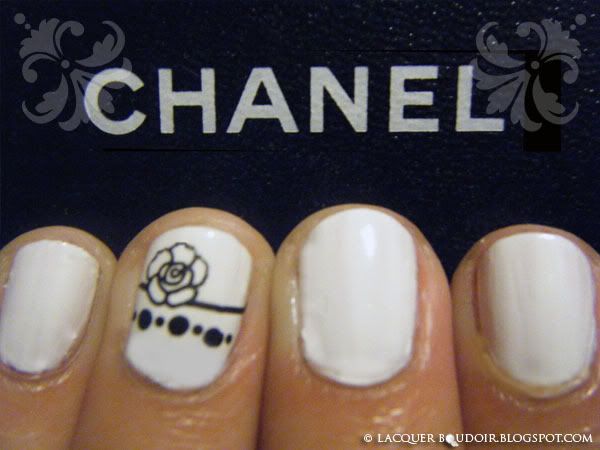 Lacquer Used:

| | | | | | |
| --- | --- | --- | --- | --- | --- |
| Base Colour: | | Barry M | 066 | White | 2 coats |
| Stamp Plate: | | Konad | M79 | Flower & Pearls | |
| Stamp Colour: | | Sinful Colors | 103 | Black on Black | 1 coat |
| Topcoats: | | Seche Vite | 83005 | Dry Fast Top Coat | 1 coat |



Instructions:
After my base coat has been dried, I used Barry M White for the base colour. I'm appalled by this varnish! It was streaky and thick, the varnish refuse to flatten out evenly. I had to use a whopping 4 coats. It's thick and opaque suitable for tips and French Manicure but not recommended for covering the entire nail.
I applied a coat of Seche Vite Dry Fast Top Coat in case I made mistake with my stamping. It stinks but, boy, does it do a great job!! Dries super fast and leaves my nails super shiny!
After all the layers have dried completely, I used Sinful Colors Black on Black with the Konad M79 Flower & Pearl. I used a remover loaded cotton swab to remove part of the pattern on the transferred stamp so that only the flower on the line and the row of pearl beneath it remaining. Then I stamp on my ring finger only.
To finish off, I used a coat of Seche Vite Dry Fast Top Coat. And Voilà!
I hope you like this manicure.
Chanel Week
continues here at
Lacquer Boudoir
... Next up, Autumn/Winter 2010 forecast!
What do you think of this konadicure?
---
This entry was posted on Saturday, July 17, 2010 and is filed under
Barry M
,
Chanel
,
Designer
,
Inspiration
,
Konad
,
Lacquer
,
M79
,
Nail Art
,
Sinful Colors
,
Theme Weeks
. You can
leave a response
and follow any responses to this entry through the Subscribe to:
Post Comments (Atom)
.