My sister is a professional make-up artist (shameless plug here check her website) and she knows I love faux eyelashes, she referred me to this site called MadameMadeline swore it's the cheapest and best quality lashes. My sister buys literally hundreds pairs from them each year. They carry a vast range of brands including: Adrell, Andrea, Revlon, Sherani, Gypsy, Elise, Everlash, Lash beLong professional eyelash extension, Fright Night and Japonesque. DO check their shipping policy before purchasing, some brands cannot be ship to a certain countries.

My sister highly recommended this range called Elise. Argh! My name is Elsie and often mistaken to be called Elise. That's not my name! It's one of my biggest pet peeves but that's another story. Elise lashes are made from the same quality maker of M.A.C. and Shu Uemura faux lashes at fraction of the price.

The site has lots of discount code, purchase over $20 USD, they'll throw in an extra pair for free if you quote "FREEBIE". If you sign up for newsletter and Twitter for free gift and discounts or post a photo on their website with your lashes, you also get free pair on your next order. For more information, please check their discount page. Shipping to the UK, it was $12 USD but overall you still save in comparison what we would pay here. Items arrived within 2 weeks. Boots will have them for £7-10. Feather lashes from Make Up Store or Shu Uemura would be at least £16 a pair, whilst Inglot would cost you a tenner.

You can also request glue, these are not the tiny ones you get from a packaged lashes neither. You get a full size 7g Ardell LashGrip Adhesive available in Clear or Dark for free. I prefer the dark glue, especially when you're wearing black eyeliner, the less likely you need to go back and touch up the gap and it blends better with the black eyeliner. This should be a tutorial post for another day.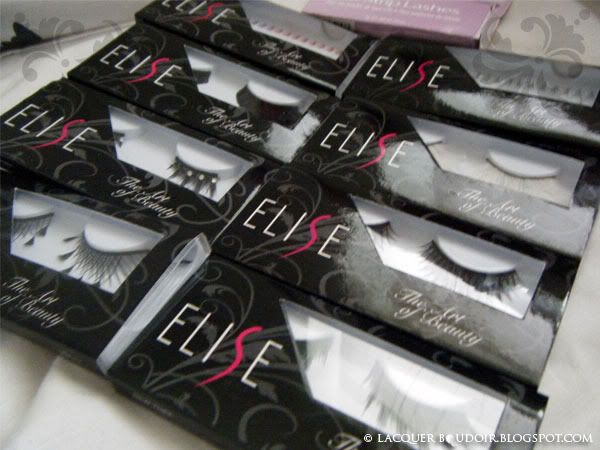 (Clockwise: Ardell LashGrip Dark Adhesive, Elise 690i, Elise 131, Elise 331, Freebie lashes,
Elise 452, Elise 121, Elise 430, Elise 534i)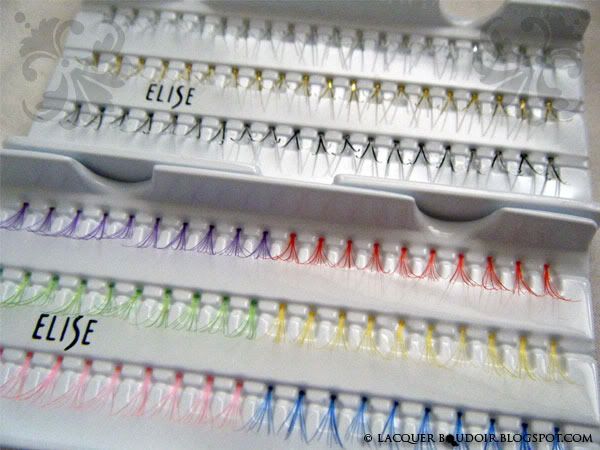 (Above: Elise 690i – Metallic Individual Lashes. Below: Elise 534i – Assorted Colours Individual Lashes)
Elise 690i:
Silver, Gold, and Dark Metal mixed metallic individual lash clusters.
Elise534i:
Purple, Red, Lime, Yellow, Neon Pink, and Blue knotted individual lashes.
Each package contains 60 knotted reusable individual lashes. Medium Flare. Easy to apply. The assorted colours set contains about 6-8 lashes for each cluster. The metallic set contains 2 metallic and white metallic lashes. Would be great for parties, photoshoot and that little flair near the corner of your eyes!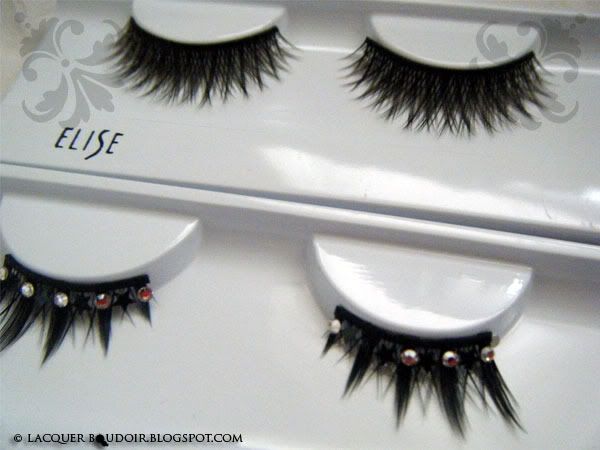 (Above: Elise 331 – Crisscross lashes. Below: Elise 121 – Half baby lashes with rhinestones.)
Elise 331:


Extra dense faux lashes with interweave overlapping crisscross lashes.

Elise 121:

Side sweeping spiky silhouette shaped HALF (Baby) faux eyelashes feature a row of silver rhinestones and metallic black stars below strip lining.
Elise 331 is almost feather like, the lashes are very dense, will give you that extra fan and volume effect. Great on dates for batting lashes and come-hither look! ;) Elise 121 would be great for parties and special occassion for adding that extra sparkle to the eyes. It's missing one of the rhinestone :(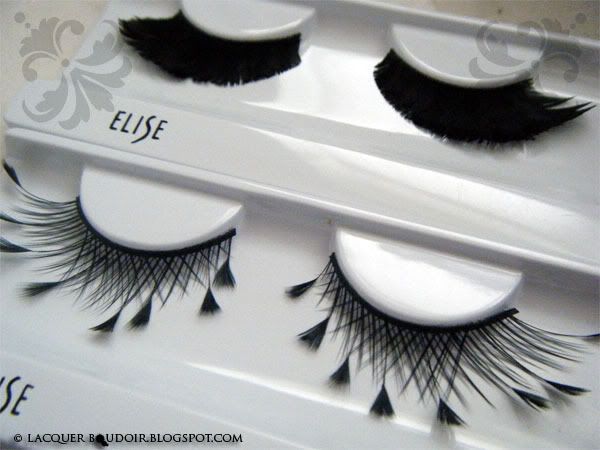 (Above: Elise 430 – Black Feather Lashes. Below: Elise 452 – Crisscross Black Feathered Tip Lashes)
Elise 430:
Medium length Black feather lashes.
Elise 452:
Crisscross Black feathered tip lashes.
Love the Black fan feather lashes! The feathered tip lashes are as dramatic, and fairytale like. Great for fancy dress parties and fashion photoshoot. Check out the close up of the feather lashes!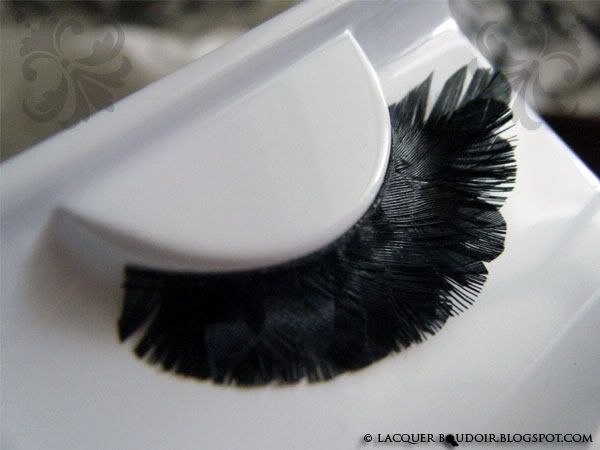 (Close up: Elise 430 – Black Feather Lashes)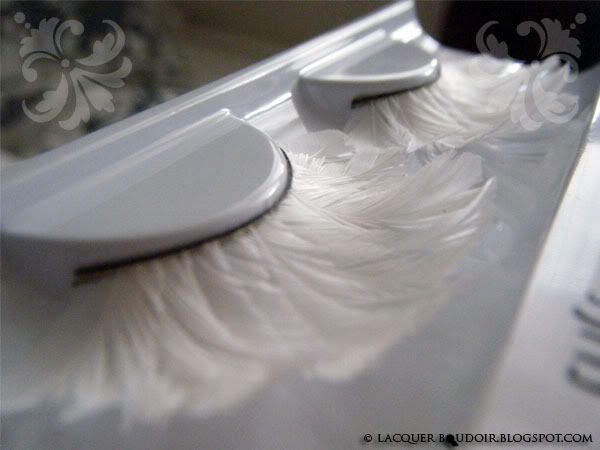 (Elise 131: White Feather Lashes)
Elise 131:
Gorgeous flirty White feather lashes.
Continuing the fairytale lashes, here comes the White version. Aren't they dreamy? I have no idea when I'll wear these but I'll have to find a fancy dress party so I could wear them!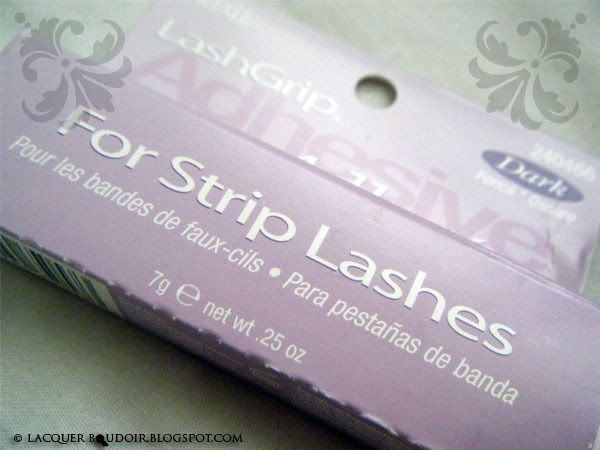 (Ardell LashGrip Dark Adhesive 7g/0.25 oz)
This is the full size dark glue came free with my order.
M.A.C. PRO
sells similar DUO Surgical Dark Adhesive for £6.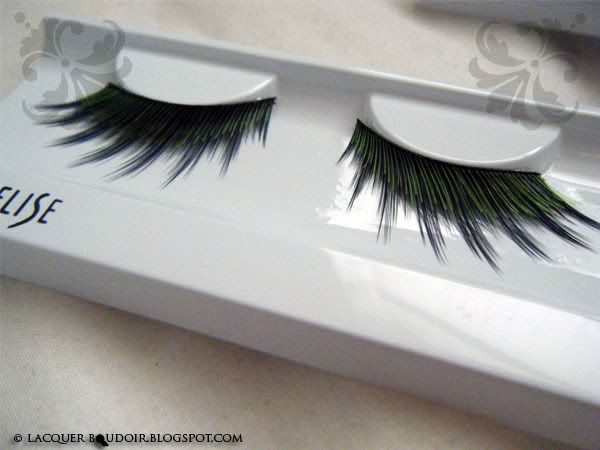 (Freebie pair – Green and Black fan long lashes)
This is the freebie pair. Despite the green, it is surprisingly wearable. Very dramatic.
MadameMadeline
usually choose the freebie pair to be a related style to your whole purchase. One never know what they'll get but they're usually wearable and not crazy extreme ones (unless your entire purchase was in such style).
---