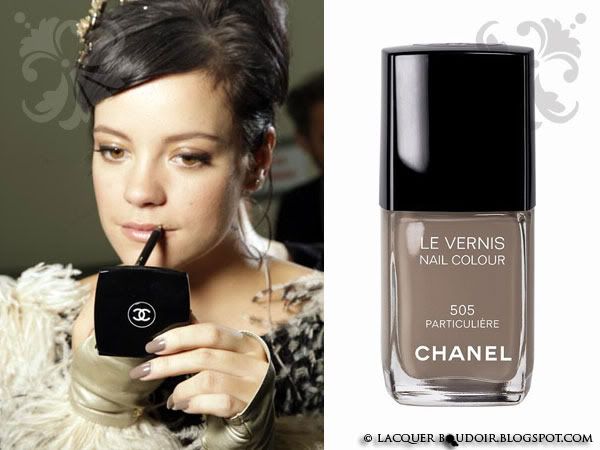 I've been contemplating on the idea of buying the popular
Chanel Particulière
for a very long time. I've seen it a couple times in the department stores and thought it looked too brown instead of greige I've seen in magazines and blogs.
I was at
Harrods
this weekend for their extra 10% member sale. I saw it at the
Chanel
counter, I couldn't resist, I gave in. I justified the fact that it was 10% off, from £16.50 now at £14.85. Eeps! That's the most expensive nail lacquer I own to date. I was also eyeing on the
Miami Peach
, if
Nouvelle Vague
was available, I probably would have purchased them too. I decided to be good and not to buy others than
Particulière
.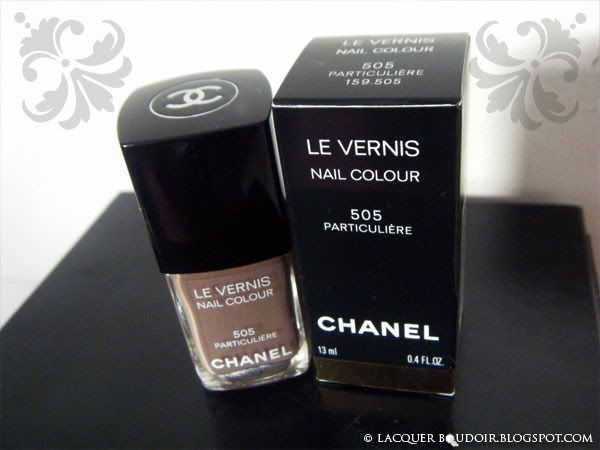 Application & Colour
The application is smooth, good viscosity and coverage. One coat was enough, but I used two. The colour still looks a bit brown and a tad darker than I would like it to be, but very flattering to my skin tone.
Final Thoughts
I am very happy with my purchase. I think greige or a grey toned trend will continue to this Autumn, possibly darker or varied colours and shades right up to the Winter 2010.
I'm announcing that this week all my nail posts will be dedicated to
Chanel
. My next post will be my first swatch comparison test:
Chanel Particulière
will be tested against
Butter London Fash Pack
, the newest
Barry M Mushroom
, and
OPI Over The Taupe
, so watch this space!
Do you own Chanel Particulière and is it worth it? Or do you rather buy its dupes? How far did you went of getting a hold of one? Would love to hear your Paraticulière stories.
---