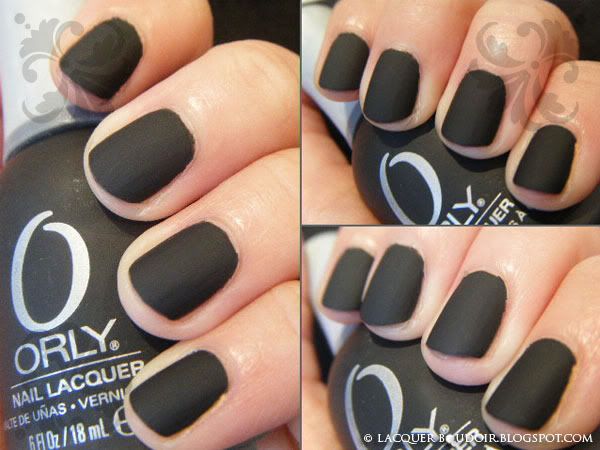 I remember back in the 90s, matte nail varnish was quite popular at one point. I used to love the matte topcoat turning everything to matte. Lots of brands came out with matte version of varnishes over the last couple seasons, and the matte trend will for sure leap into this AW10/11.
Rimmel
and
Boots 17
have both recently released a matte topcoat for their AW collection.
At a recent mini haul, I purchased a few matte varnish, one from
OPI
and two from
ORLY
. I've read lots of about
ORLY
(any mention of this brand always make me giggle because of
O Rly Owls
) but never could get hold of some until now. The first feature swatch is
Matte Vinyl
which is a very black colour.
Application, Pros & Cons
I first thought it was a bit sheer application, it looked okay once it dried but it sure needs 2 coats. I put on 3 coats. It dries faster than regular varnish and dries flat and even. I LOVE, LOVE, LOVE that my nails look like charcoal!
Down side of this is that it does chip more easily than regular polish. I've got a matte topcoat from
TopShop
but unfortunately, it doesn't dry as matte in comparison, more a satin-matte finished. I also find that after you've put on hand lotion as well, it takes away the matte look. It doesn't look as matte after a few days but one can simply refresh the matte manicure by applying a thin coat of matte polish.
Final Thoughts
I love the look of this matte varnish but it's a bit high maintenance. I would love to get hold of
ManGlaze
matte polish! Watch this space for comparison post later in the year.
What do you think of matte polishes? Have you own some? What's your favourite matte brand?
---