Attending London Fashion Week has been very inspiring and I can't wait for Spring/Summer 2011! I've been toying with the idea of having my own nail design collection each season. I'm inspired by the military/heritage, animal print and lace trend for this AW10/11's catwalk. Will let you on a secret... Watch this space... Lacquer Boudoir mobile salon coming soon!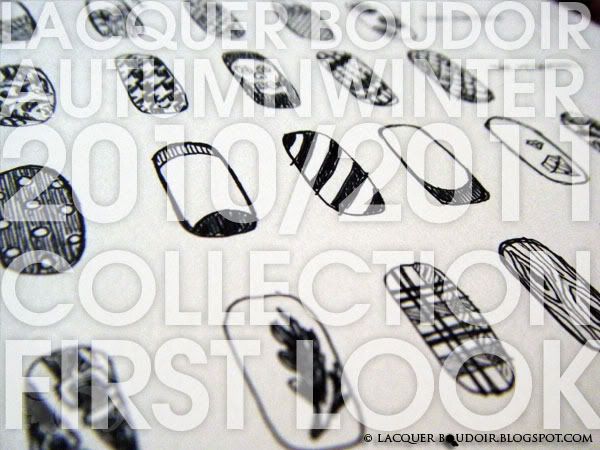 Nail wheel is a bit of a pain to Konad on! There are more designs but I couldn't stamp on the nail wheel because the next nail tips were blocking my stamp to roll. So I couldn't do those ones for now, however, I managed to try out some of the freehand designs to see if they work on my broken nail wheel. Here it is! Sorry about the huge watermark, this is working progress so far, until they're released later this year and to protect my designs the watermarks are staying. I'm sure you understand. :)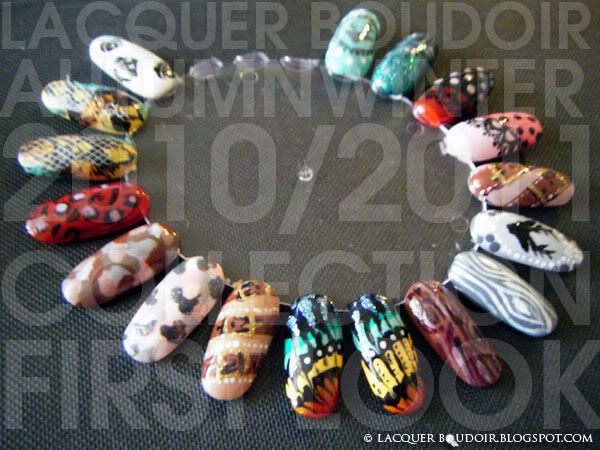 After the popularity of
Chanel Week
, there are two designs here which is dedicated to a certain fashion designer. Yes, so there's another theme week coming up later this year! Can you guess who it is?
What do you think of the first look of the collection so far?
---